HEY MY FRIEND, ARE YOU READY TO TAKE A LEAP OF FAITH WITH ME?


Are you tired of feeling stuck and making plans to take action but never following through (or taking action and still not getting the results you want in life)? If so, you're exactly in the right place.


My area of expertise over the last 20 years as a coach has been solely focused on mindset, productivity, goal setting and intentional living.


Inside the INSPIRING LIFE ACADEMY, you will find EVERY COURSE I'VE EVER CREATED to help you manage your mind, time and life in a way that finally gets you what you want. 


And the best thing? This offer won't cost you an arm or leg. With a total value of $3200+, you will gain instant access to a vault of life-changing, mindset-shifting courses and resources for only $149 USD for 6 months.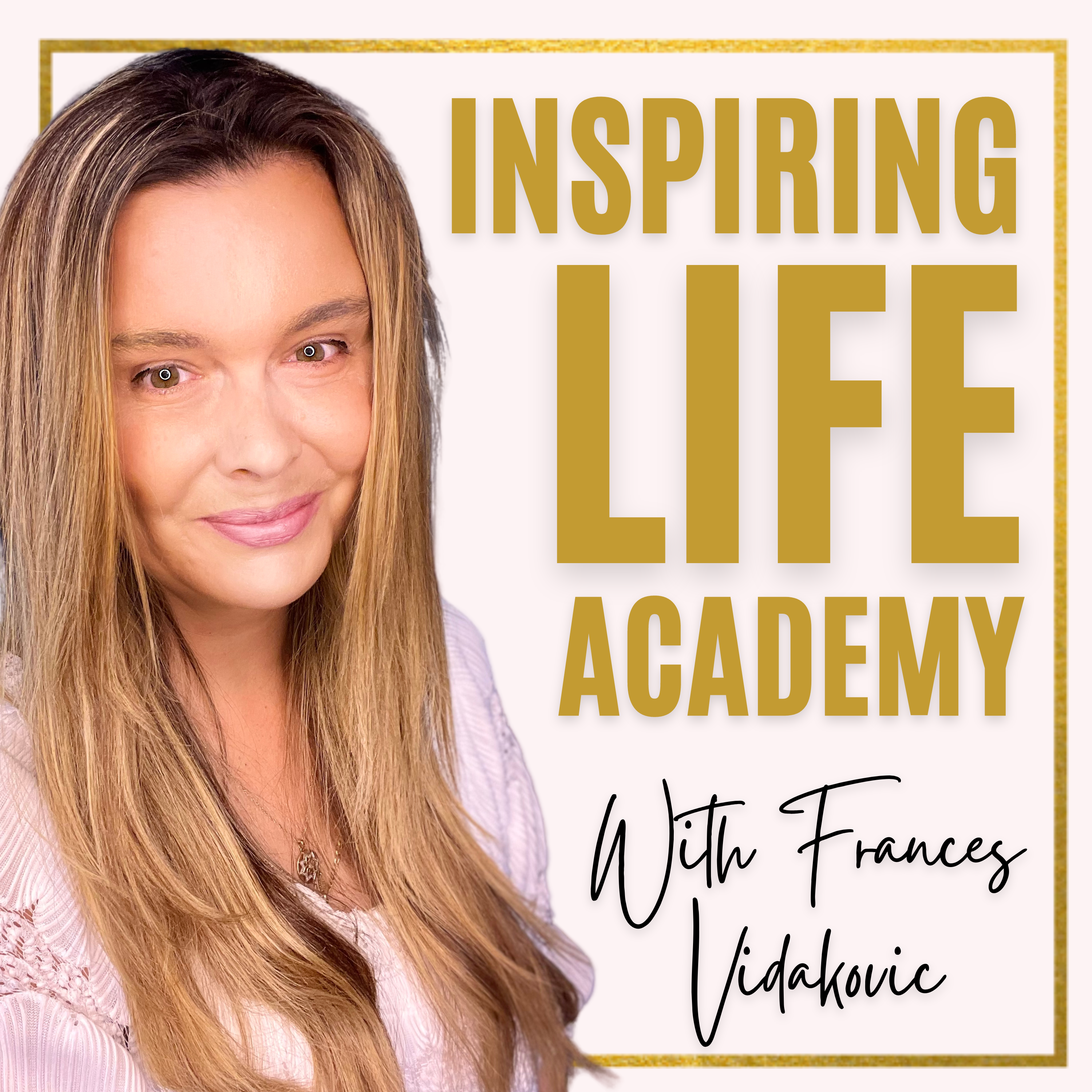 Hi, I'm Frances Vidakovic
I'm a certified life coach with a degree in psychology, host of the INSPIRING LIFE SCHOOL podcast, course creator and CEO of the award-winning website InspiringMomLife.
I help women manage their mind, time and life better so that they can finally live life without regret. My one true superpower? Transforming dreamers into doers.





THE ACADEMY IS FOR YOU IF:


✔︎ You genuinely desire to grow and evolve in life
✔︎ You understand that you're responsible for your own success and that action is required to make things happen
✔︎ You recognize that the value you get from this membership will correlate directly to the effort you put into it. 


THE ACADEMY IS NOT FOR YOU IF:


✘ You don't see the value of investing in yourself
✘ You don't have time to allocate to taking action on your dreams
✘ You require a lot of additional support (in this case, you may be better suited to my 1:1 private coaching program THE DREAMING TO DOING COACHING EXPERIENCE).


HERE'S HOW THIS MEMBERSHIP WORKS



INSPIRING LIFE ACADEMY is designed to be the simplest and most affordable way to help you take action, create change and achieve the results you want in life. 
After investing over $10,000 in courses myself, I know full well the pain that comes from investing large amounts of money into programs only to discover the content doesn't resonate with you (sob, it hurts - I've shed tears more than once thanks to half-assed courses with overinflated prices).
I also know what it's like to WANT to buy a course and yet have the price tag be outside of your budget (that also sucks - you want it but can't genuinely invest without it negatively impacting your finances). 
By creating INSPIRING LIFE ACADEMY I'm technically breaking all the rules of business, but I feel called to do so because it's my deep-soul purpose is to help as many people as possible stop putting their dreams on hold and instead finally live life in a "BRING IT ON! fearless way.

I KNOW, with 100% full confidence, that the courses inside the Academy have the power to change your life.
That's why I created this crazy no-brainer, low-risk, easy-yes offer for you. To make it as easy as possible for you to invest guilt-free in yourself, in your life and your dreams. 


If you're looking for a lighthouse or beacon to shine a light and guide you the right way, you have found it here today. 
The membership is simple: $149 for full access to all my 50+ courses and roadmaps for 6 months. All of these courses, if purchased separately, would cost a total of $3200+ for lifetime access.

Inside INSPIRING LIFE ACADEMY you get 6 months of access to EVERYTHING for $149.
With the support of this membership, you will have the tools you need to live your life with more intention and focus. You will grow and evolve instead of wasting yet another day, month or year feeling constant doubt, fear, confusion and overwhelm.
These courses are here to support you as you begin to live life bigger and bolder than before and as you continue to create results you want, in a way that makes you feel like the freaking BOSS of your life, the captain of your own ship and master of your domain.





HERE'S EVERYTHING INCLUDED INSIDE THE ACADEMY
Total value $3209



SPECIAL BONUS:


WEEKLY COACHING EMAILS
In addition to the vault of courses inside INSPIRING LIFE ACADEMY (a total value of $3200+), you will receive additional support from me in the form of WEEKLY COACHING BONUS emails.


FYI: these weekly emails are NOTHING like the usual emails that pop up in your inbox. They're designed to keep you grounded and focused on your goals.

Each email will deliver to you coaching truth bombs so even if you just read these emails alone and action that advice, you will consequently show up differently in your life.

This alone is worth your $149 investment.


MY MOM TAUGHT ME TO "NEVER MAKE A PROMISE I CAN'T KEEP" - but here's what I can confidently promise you will find inside INSPIRING LIFE ACADEMY


✔︎ A clear strategy for managing your mind better - bye bye overwhelm and confusion, hello clarity and focus (inside MANAGING YOUR MIND MASTER COURSE)

✔︎ The secret to stop procrastinating and wasting your time and instead start doing the stuff that truly MATTERS every day (inside TAKE BACK YOUR TIME).
✔︎ A super specific and comprehensive 12 week game-plan to help you achieve your big, audacious goals - literally my private 1:1 coaching program is replicated here for you (inside YOUR MAGIC WAND course)
✔︎ Resources and lessons to help you become the very best version of yourself (inside YOUR INVISIBLE CROWN course)
✔︎ Courses to help business owners in almost every area of their biz, from increasing website traffic and visibility to creating content and running their biz with ease. (Strategies that have helped me get over 6 MILLION pageviews to my business)
✔︎ Courses to help parents at all different stages of their parenting journey show up confidently and parent in a way they LOVE.
✔︎ Plus there's so much more inside INSPIRING LIFE ACADEMY to help you change, grow, evolve and become the very best version of yourself with grace and ease.

WHAT MAKES ME DIFFERENT FROM OTHER COACHES?
First and foremost I practice everything that I teach. I don't just talk the talk, I also walk the walk. In 2001, I was trained and certified as a life coach, after graduating with a degree in psychology, and started a successful life coaching practice. 
Years later I pressed pause on my business when I discovered that I was coaching other people to achieve their dreams and ironically ignoring my own dream I had burning inside my heart.

This dream of mine - to become a writer - became my new mission and purpose in life.

I went on to publish 20+ books and become a full-time soloprenuer. I started a wildly successful blog - InspiringMomLife.com - that had over a million pageviews in the first year and has had over six million visitors since its inception. 
In 2019 this same website won a best parenting blog award. In 2021, my second website DreamBigMyFriend.com won the best personal development award. 
My podcast Inspiring Life School now has over 300+ episodes and continues to serve one and only one goal: to help you wake up to the preciousness of life and provide you with a clear roadmap for taking action on your goals - today, not tomorrow. 
I achieved these results without sacrificing my sanity or integrity.
My family still to this day will always come first for me. I've been happily married for over 20+ years.
I'm a mom of two teens and my youngest has a degenerative neuro-muscular condition that requires him to use a wheelchair. I see beauty everywhere and potential in everyone. I see life and time as a precious gift. 
My mission for Inspiring Life Academy is clear: to help you achieve the results you want in life with more confidence and calm and less overwhelm.
Whatever your goal is, there's a game plan inside INSPIRING LIFE ACADEMY to help you achieve it. Allow me to support you for the next 6 months and beyond via the INSPIRING LIFE ACADEMY membership.
Even if we've never met before, I already believe and have faith in you. I trust you. I can see your potential. I know you can do it. 
Let's do this together my friend xx




Frequently Asked Questions
Q: Why are you offering everything for such a crazy price?

One of the things that I've struggled with the most as a business owner is my desire to help as many people as possible and knowing that not everyone is financially able to make the investment.
By creating INSPIRING LIFE ACADEMY I've made it even easier for people to say YES to transforming their lives.

Q: What if I have already bought some (or all) of your courses in the past? Can I get Inspiring Life Academy for free or is it possible to get a refund? 


Firstly, thank you so much for investing in one of my programs in the past. I genuinely love and appreciate your trust in me so much and am grateful to be a part of your personal growth journey.
Inspiring Life Academy differs from any prior purchases you have made as it only offers 6 months access to my programs (or for as long as you are enrolled in the membership).
If you've already purchased a course, you will have permanent access to it (for the lifetime of the course) and will continue to have access to it even if you are no longer an Academy member. 
I've made it possible to still purchase individual courses for lifetime access, however refunds are not possible for prior purchases. 

Q: Does Inspiring Life Academy include EVERYTHING you plan to create in the future?
Because I have no idea what my brain will be called to create in the future, I hesitate to say yes to such a big promise (this idea of EVERYTHING FOREVER AND FOREVER IN THE FUTURE).
However my intention is to throw as much love as possible into making the membership as valuable as possible and at this point in time anything new I create will be included inside the academy. 

Q: How do I access these courses?

These offerings are digital programs stored inside the Teachable platform. Upon enrolling you will receive an email granting you access to all the courses.
There is a Teachable IOS app which you can download onto your iPhone or iPad and use to access all courses on the go.
Alternatively you can log in via your computer and access content that way. The content is made up of videos, PDF downloads and audio lessons, to suit all different styles of learning.


Q: The Academy includes so many courses. What if I'm not able to get through everything in 6 months?

Please know your goal is NOT to rush and speed through every single course in the next 6 months! Most of us don't purchase a Netflix membership with the intention of watching every single TV show and movie within the next 30 days nor do we need to attend every single fitness class or use every single piece of equipment in order to feel as if we got our money's worth from a gym membership.
The same principle applies to Inspiring Life Academy. I want you to take what you need from this membership. I want you to work on what is currently most important to you.
The courses inside the academy cover so many different areas such as: mindset, time management, parenting, relationships, intentional living, business, weight loss and more so trust your own intuition and work on what you feel most guided to do. 
Q: Why is it a 6 month membership (not longer or shorter)?

As a coach and business owner, I've experienced all sorts of memberships in the past. I've personally found that the shorter time frames (monthly memberships) often create undue pressure on us to perform and get results instantly.
As for longer memberships, we often get lax and forget about the commitment we have made. So just like Goldilocks choose the happy sweet spot for herself, I've chosen a length of time that I feel will personally serve you best and give you enough time to slowly yet surely create the changes and results you hope to achieve in life.

Q: Is the Academy always open for enrolment and will the price always remain $149 for a 6 month membership?
While I aim to give everyone ample opportunity to enrol in Inspiring Life Academy, there will be periods of the year when the Academy is closed to enrolment. This is so I can give my full attention to ensuring the membership is running smoothly and focus on creating even more value for its members. 
As for the current membership price (founding members price: $149 for 6 months - wow!), I envision that this price will increase in the future as the membership continues to grow and expand. 
However if you enrol in INSPIRING LIFE ACADEMY today you will lock in the price of $99 for yourself and this price will remain the same for as long as you continue with the membership.
Should you choose to cancel and return again in the future, you will be charged whatever the current membership price is at that time.

Q: I'm still nervous about taking the leap. Why should I still buy this?

It's totally normal to feel nervous before making any new investment but what if that feeling of nervousness was really excitement instead (FYI: both feelings have the same physiological reaction in your body)? What would it be like to take a chance and bet on yourself? 
Keep in mind that there's a difference between learning and applying new skills hence the reason this is a 6 month membership. I want to set you up for success. I want to remove all the pressure from your shoulders right now that you need to make incredible changes overnight.
You can take your time. You can take one baby step followed by another baby step and take it nice and slow. 
Even if you just work on ONE GOAL and achieve that ONE GOAL in the next six months, this can equal SUCCESS for you. But you will never know what you are capable of, you will never know how INSPIRING LIFE ACADEMY can help you change the way you think, feel and act if you continue to sit there on the sidelines of life. It's time to get up and say YES to making changes happen today.


Q: Can I cancel at any time?

Of course you can! After you have enrolled, you will have access to all the courses inside the Academy for a full 6 months. However you can cancel at any time if you don't wish to continue the membership for another 6 months.
You can do this either from inside the portal via the account management page or email us on hi@inspiringlifedreams.com. However due to the digital nature of this membership and the sheer volume of courses inside, refunds won't be given for change of mind for the initial 6 month membership purchase.





QUICK SUMMARY OF EVERYTHING INCLUDED WITH THE ACADEMY MEMBERSHIP

✔︎ Life Coach On Demand: Your Invisible Crown - $297
✔︎ DIY Life Coaching: Your Magic Wand - $297
✔︎ Managing Your Mind Master Course - $127
✔︎ Take Back Your Time - $127
✔︎ Dream Big My Friend Life CEO Planning System - $47
✔︎ Create A Life You Love - $97
✔︎ The Fearless You Project - $97
✔︎ Mindful Living Master Course - $97
✔︎ Reignite Your Relationship - $127
✔︎ Be A Better Parent In 30 Days - $127
✔︎ The Ultimate Life Audit Plan - $27
✔︎ The Seize Your Day Roadmap - $15
✔︎ The Less Is More Roadmap - $15
✔︎ The Dare Approach To Life Roadmap - $15
✔︎ Mom Mindset Reboot Roadmap - $15
✔︎ The Selfcare Isn't Selfish Roadmap - $15
✔︎ Manifest Money And A Life Of Abundance $97
✔︎ When Your Worst Enemy Is YOU - $15
✔︎ The Best Week Ever Challenge - $15
✔︎ The Ultimate Family Bonding Pack - $15
✔︎ The Ultimate Journal Prompts Bible - $15
✔︎ Be The Best You Affirmation Cards - $15
✔︎ Mindset And Motivation To Finally Lose Weight - $127
✔︎ Write Your Own Memoir - $27
✔︎ 50 Truth Bombs To Change Your Life - $15
✔︎ Personal Development Bootcamp For Kids - $127
✔︎ The Goal Setting Kid - $15
✔︎ The Sibling BFF Plan - $15
✔︎ Secret Missions For Kids - $27
✔︎ Life Skills - $15
✔︎ When Bad Parents = Great Kids - $15
✔︎ The Ultimate Kids Writing Course - $47
✔︎ The Ultimate Keep Kids Busy Fun Guide - $15
✔︎ Inspiring Teens - $127
✔︎ Raising Special Kids - $127
✔︎ Happy Thoughts - $15
✔︎ The Smart Kids Guide To Everything - $15
✔︎ The Life Hacks Bible - $15
✔︎ The Savings Hacks Bible - $15
✔︎ Life Is An Experiment - $15
✔︎ How To Write A Book In 30 Days - $67
✔︎ Boost Your Traffic - $199
✔︎ Let Your Biz Be Easy Blueprint - $67
✔︎ Content Is King - $47
✔︎ The Kick-Ass Visibility Challenge - $127
✔︎ How To Launch A Podcast In 10 Days - $27
✔︎ 100 Ways To Make More Money Blogging - $15
✔︎ The Unicorn Blogger - $27
✔︎ The Ultimate Blog Audit Plan - $27
✔︎ The Essential Blogger Mindset Handbook - $27
✔︎ The Crystal Clear Avatar Roadmap - $27
✔︎ Pinterest Is Queen - $37
✔︎ 250 Best Email Subject Lines - $15
✔︎ BONUS - Stop Wishing -Start Doing
✔︎ BONUS - Hurdles That Stand In The Way Of Your Dreams
✔︎ BONUS - Weekly Coaching Emails