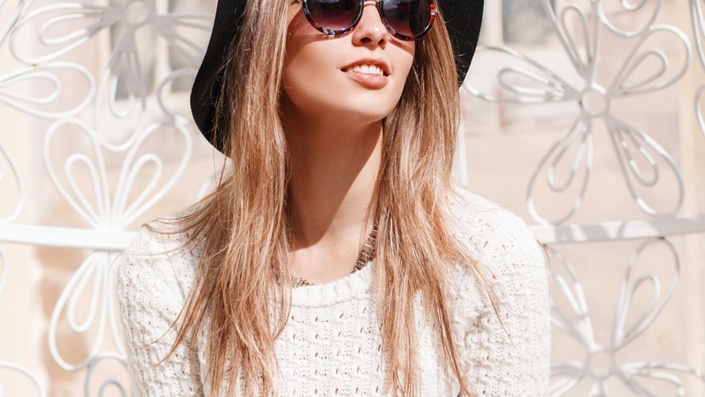 Look Good Feel Good Masterclass
How To Physically Show Up In A Way You Love EVERY DAY
Are You Ready To Be Totally Honest With Yourself?
Let's Start By Playing A Quick Game Of "DO YOU EVER?..."
- Do you ever cringe when you see your reflection in the mirror because you look so "blah"?
- Do you ever feel tempted to run the other way when you bump into an old acquaintance because you don't want them to witness how you've "let yourself go"?
- Do you ever neglect your appearance AND THEN feel totally crappy that you didn't make more effort?
- Do you ever think: of course it's what's inside that matters the most BUT I STILL WANT MY OUTSIDE TO LOOK GOOD TOO!
If you answered yes to any or all of the above, this masterclass was created specifically for you.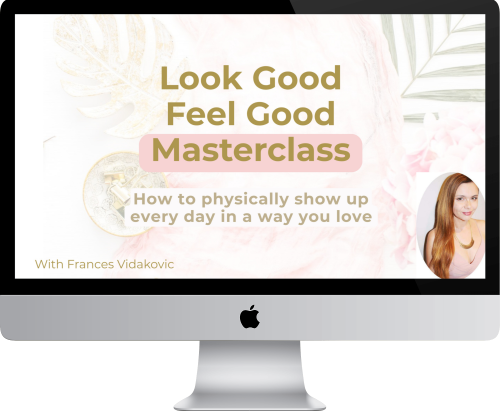 THIS MASTERCLASS IS FOR YOU IF:
✔ You feel like you've let yourself go
✔ You struggle with thinking it's vain or superficial to focus on your physical appearance
✔ You believe it takes SO MUCH TIME to make yourself look and feel good
✔ You desire a simpler approach to taking care of your physical appearance

WHAT YOU WILL LEARN INSIDE THE "LOOK GOOD FEEL GOOD" MASTERCLASS
✔ THE FOUR AREAS you need to focus on in order to LOOK GOOD & FEEL GOOD
✔ TWO THOUGHTS you need to ditch ASAP or else they will always sabotage your best efforts
✔ TWO THOUGHTS you can embrace instead to make implementing these strategies super easy
✔ SIMPLE & PRACTICAL STRATEGIES that actually require little time to carry out
✔ A GAME PLAN to ensure that everything you learn stays in the forefront of your mind after the masterclass is done
✔ MINDSET SHIFTS to support this new way of life for you
✔ THE SECRET to finally looking and feeling good every day with ease - yay!
✔ TESTED, EVALUATED, AND PROVEN TO WORK (by me!)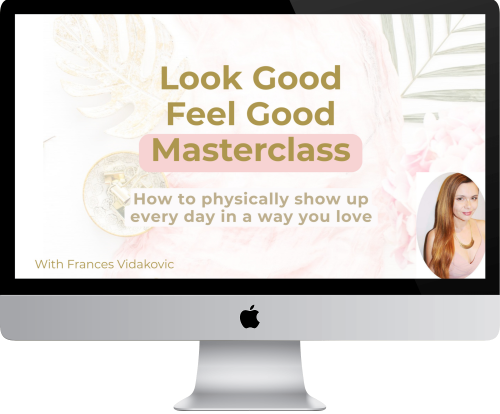 WHAT YOU WILL GET
✔ Official LOOK GOOD FEEL GOOD Masterclass (1 hour long)
✔ BONUS Audio Only Version for when you want a refresher listen on the go
✔ BONUS PDF presentation for when you want to reference a quick summary

✔ BONUS LOOK GOOD FEEL GOOD 50+ page eBook for when you want to go deeper and read a transcript of the class
✔ MY GOAL IS TO COVER EVERY LEARNING STYLE TO MAXIMISE YOUR CHANCES OF FUTURE SUCCESS

✔ FINALLY LIFETIME ACCESS VIA THE TEACHABLE COURSE PLATFORM (RATHER THAN A REPLAY PAGE)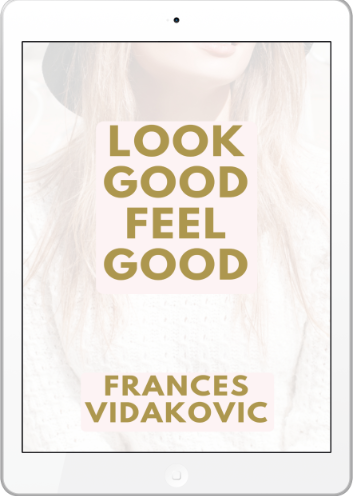 I ALREADY KNOW YOU WILL LOVE, LOVE, LOVE EMBRACING THIS SIMPLE LOOK GOOD FEEL GOOD WAY OF LIFE
In case we aren't yet virtual besties, my name is Frances Vidakovic.
I help women manage their mind, time and life better so they live each day without regret
QUICK SNAPSHOT OF ME

✔ Face behind InspiringMomLife.com and host of the Inspiring Life School podcast
✔ Degree in psychology and decades of coaching experience (certified as a life coach back in 2001)
✔ Digital course creator, author of 20+ books and your hostess with the mostess inside the amazing Inspiring Life Academy.

WHY THIS MASTERCLASS IS A MUST-SEE
✔
I've blended the

SIMPLEST

and best practical strategies with mindset hacks that will make it inevitable that you take action to look good and feel good after the one hour masterclass is done